SESSION 1: 10am-1pm
Planning Your Writer's Website
If you're an author, you know you need a website. But it's a daunting task, and it's hard to know where to start. How much does it cost? How do I choose a domain name? Do I need my own site, or can I just set it up on Blogger? And how can I get all that done and still write my next book?
The result is that the website gets pushed onto the back burner again and again.
Let's move forward on your author's website. We'll start at the beginning and go through the process of setting up your website, answering such important questions as:
How do I choose a domain name I can live with for the long haul?
How do I choose between a free and paid site?
What kind of website should I have?
How can I choose a design that will connect with my audience?
I'll also answer questions you may not be asking — but that every website owner needs to:
How can I organize information on my site so that readers will stay beyond that critical first five seconds?
How can I talk to the search engines so that they'll send traffic my way?
How do I write so that web readers stick around to hear me out?
I'll evaluate some authors' websites, so that we can see what works in different contexts. And if you already have a site and would like yours to be evaluated during the workshop, you can send me your URL, and we'll talk about it.
At the end of the day, you'll have the information and vocabulary to get your site set up. Even if you decide not to do it yourself, but to get someone else to do it for you, you'll be in a better position to evaluate their offers, so that you don't end up paying to much for not much of value.
Here's what some other participants said about similar workshops in 2012:
Your workshop yesterday really helped me sort through what I want in my website. Thanks.
~ Marlene Hill

Thanks so much for your workshop yesterday. I found it concise, well-organized and helpful. You know your stuff! I find the idea of setting up a website far less intimidating now.
~ Maya Muir

I thoroughly enjoyed your presentation, from the nuts and bolts information to the attention grabbing photos. . . . Your ability to hone in on ideas, both for content and architecture of a site, recommends you highly.
~ Karen Alexander-Brown
Let 2013 be the year you finally take action on your writer's website. Whether you've published that book or not, now is the time to create your platform on the web.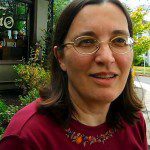 Jan Bear helps authors rule the age of digital publishing. New media, new ways of communicating, and new marketing methods make it possible to get your book into the hands of your ideal audience. At MarketYourBookBlog.com, she explores authors' strategies and opportunities in the wake of the digital publishing revolution.
BROWN BAG LUNCH: 1PM-2PM
SESSION 2: 2pm-5pm
Higher purpose? Using Blogs and Social Media for Art.
You probably use social media. Maybe you've started a blog. But how do you turn it into a tool? How do you use it for good — that is, the good of your art? This course will delve deeply into a variety of social media used by course participants, and discuss best practices for using each one to manage your "brand" and market your work, without selling yourself out (or selling yourself short). This will cover some basics but will move quickly on to the ways in which different social media platforms can be combined into a "strategy." You will learn how to juggle your social media life, your IRL, and your art.
To blog or not to blog? Whether or not you should keep your own space on the -ogosophere, and how often you should tend it.
The Little Bear Rule of Facebook. How much is "just right"?
Toot toot! Why you should toot your own horn, and how to do it gracefully.
Getting raw, but not bloody. How to find the line between seeming real and oversharing.
Kick it off! Using Kickstarter for passion and profit.
Multimedia bling time. Cool ideas that have worked for me (and brainstorming about what could work for you).
Be ready to discuss your writing projects and your past successes, and failures, with social media. We'll try to apply our learnings directly to the workshop participant's own work. And maybe we'll do some real-time horn tooting.
Sarah Gilbert spent several years writing and launching blogs for first-of-their-kind social media companies, with a three-year stint launching and managing blogs for AOL (and forever shaking her head at the "social media experts" who told her what she already knew). The writing became more and more important, and after quitting her job at AOL she was born again as an award-winning memoirist. She has been published in Oregon Humanities magazine, the Water~Stone Review, and elsewhere. She was nominated for the Pushcart Prize and received a 'Notable' in Best American Essays 2012 for her piece 'Veteran's Day.' She is editor-in-chief of Stealing Time, a print literary magazine for parents. She is working on two memoir projects and at least one novel.
Cost:
The cost for a single session: $70 for members and $110 for non-members; two sessions: $125 for members and $165 for non-members. (Non-member prices include a one-year OWC membership.)
Cancellation Policy:
All cancellations are subject to a $50 cancellation fee. Cancellations received SEVEN (7) DAYS before the program date are refundable. Sending in this form or signing up at the website indicates that you have read and understand the cancellation policy.
Sign up now via credit card:
Member, Session 1 – Jan Bear ($70): [wp_cart:Internet Marketing Jan Bear – Member:price:70.00:end]
Member, Session 2 – Sarah Gilbert ($70): [wp_cart:Internet Marketing Sarah Gilbert – Member:price:70.00:end]
Member, Sessions 1 & 2 ($140): [wp_cart:Internet Marketing Both Sessions – Member:price:140.00:end]
Non-Member, Session 1 – Jan Bear ($110): [wp_cart:Internet Marketing Jan Bear – Non-Member:price:110.00:end]
Non-Member, Session 2 – Sarah Gilbert ($110): [wp_cart:Internet Marketing Sarah Gilbert – Non-Member:price:110.00:end]
Non-Member, Sessions 1 & 2 ($220): [wp_cart:Internet Marketing Both Sessions – Non-Member:price:220.00:end]
If you would prefer to pay by check, please print and mail this Registration Form.
For information, contact James Bernard Frost at jim@oregonwriterscolony.org.