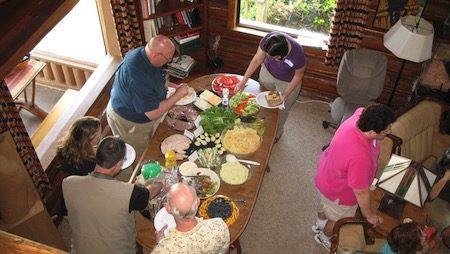 For Oregon Writers Colony's 27th annual Founders Day, we plan to go back to our roots with a Writers' Potluck.
As always, the event — on Sunday, Aug. 7, 2016, will be held at Colonyhouse in Rockaway Beach, Oregon.
We first began holding these summer get-togethers to celebrate the purchase of the house. Some years we organized formal programs featuring catered meals, guest speakers, and musicians. Other years we rented outside space and held book fairs for our members/authors.
Members who have attended in prior years have said that what they most enjoy is meeting and reconnecting with other writers, enjoying the beach, and sharing good food.
This year we are going back to basics with a Writers' Potluck.
For lunch, OWC will provide turkey, ham, and beverages. We ask participants to bring something to share. To help make sure all our dishes are covered use the alphabetical list below as a guide to what to bring.
If your last name begins with
A–F: Salad or fresh fruit
G–L: Side dish
M–R: Dessert
S–Z: Bread, rolls, crackers
The Writers' Potluck will include a Maxim Matchup icebreaker and a short history of Colonyhouse.
We also ask that each of you bring a writing-related tidbit to share — a short reading, a quote, or a writing tip. Keep your contribution to under 3 minutes. We predict this could be one of the best programs we've ever had.
Cost is $10 per person Any questions, contact Marlene. See you at the beach!
Register for Founders Day