28 happy writers gathered together, April 29 through May 1, at the historic Sylvia Beach Hotel in Newport, Oregon, to attend the Oregon Writers Colony's conference.
Back after a two year hiatus due to Covid precautions, the group seemed thrilled to connect, network, collaborate, and learn from dynamic keynotes, Kate Ristau and Sandra Bishop.
All attendees presented proof of vaccination before enjoying the Friday evening wine social, hosted by Board President Becky Kjelstrom and Development Maven Nyla McCarthy.
Board Member Mollie Hunt and member Alene Reaugh ensured that both check-in, and our popular raffle ticket sale, flowed smoothly.
Board member Rebecca Knuth entertained everyone after dinner Saturday night with her Life of Agatha Christie powerpoint.
As always, the staff at Sylvia Beach were wonderful. We ate fabulous food and drank excellent wine.
Kudos to Hailey Isleib and Rebecca Knuth for working hard behind the scenes to bring this year's conference together so seamlessly.
We hope to you in 2023 for another memorable gathering.
The 2023 OWC conference family (minus a few who had to depart early)
Literary Agent Sandra Bishop shares current trends in the publishing industry after fielding pitches from many eager writers.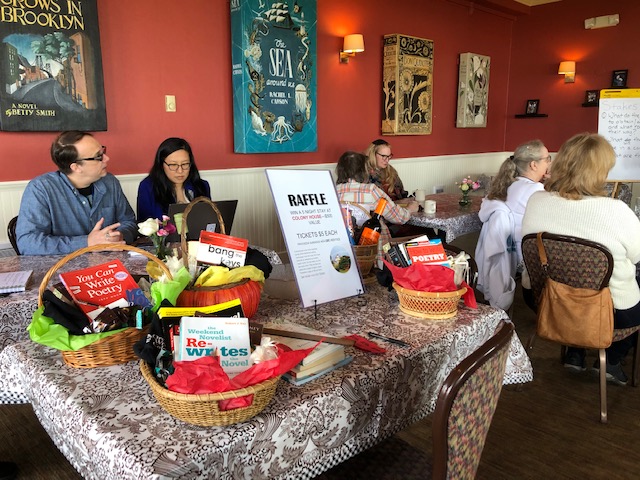 Five happy attendees won these cool raffle basket, including the grand prize, a five night stay at Colonyhouse
Rebecca Knuth shared her love of Agatha Christie after dinner via powerpoint.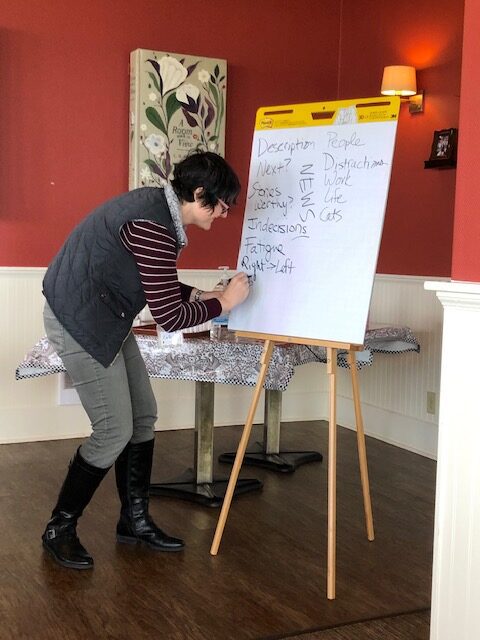 Keynote Kate Ristau provided two days of excellent craft and humor.
Friday evening's wine social proved to be a big hit. Lots of networking and catching up occurred.
Friendly faces greeted everyone at check-in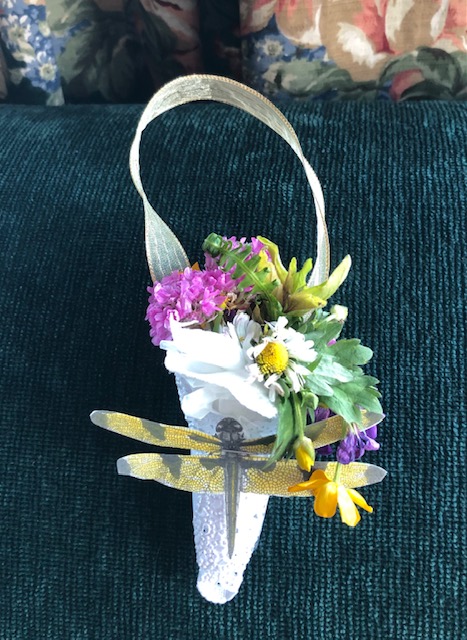 Everyone woke up to one of these sweet little May Day baskets hanging on their doorknob.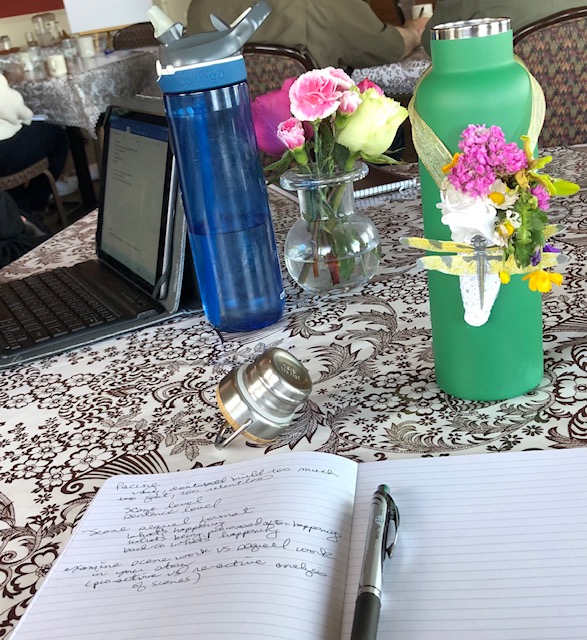 Note taking proved serious business for many