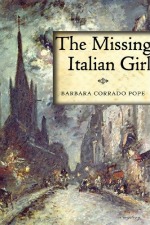 Barbara Corrado Pope announces the publication of The Missing Italian Girl (Pegasus). Her third historical mystery explores the plight of working class girls and the struggle of middle class women to come into their own and seek justice for their sex in Belle Epoque Paris. It has already been called "deeply atmospheric and engrossing" (Booklist), "absorbing" "(Library Journal), and "a story that will entice readers" "(Publisher's Weekly). It was also first on this month's Oprah.com list of mysteries.
Barbara will be reading from her new book at 2 p.m., Saturday, March 2 at the University of Oregon's Knight Library in Eugene, and at 7 p.m., Thursday, March 7 at Beaverton Powell's.
The Missing Italian Girl is available on-line, in electronic formats, and at bookstores.