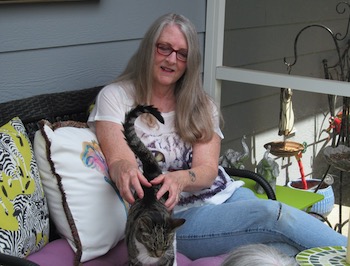 Mollie Hunt is the author of a new book, Cat Conundrum, a Crazy Cat Lady Cozy Mystery #7, a cozy cat mystery published by Indie.
~A locked room. A dead man. The cat is the only witness, and he isn't talking.~

Cat Conundrum finds our hero, sixty-something cat shelter volunteer Lynley Cannon, on the wild Washington coast with her friend, Special Agent Denny Paris. The pair are all set to give a presentation on shelter cats at a prestigious cat summit. Little do they know they will be confronted with not one, not two, not three, but four bizarre murders!