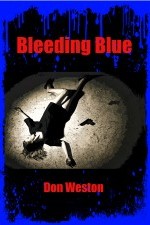 TaborSpace, 5441 SE Belmont St. Portland, OR
Tuesday, April 23, 2013 at 7:00pm
You are invited to attend the Launch Party of Don Weston's first published book, Bleeding Blue.
Don will read from his mystery about a female P.I. named Billie Bly. He also will have copies of his book available for $15.00 for those who would like to purchase one.
Don's book is set in Portland, Oregon and features a hard-boiled private investigator who becomes the target of a ruthless killer.
Join Don at his premier and learn a bit about him and his writing. He will share a few stories about the bumpy path to becoming an author. Refreshments will be provided, as will book signings.
Be sure to reserve a ticket for this event as seating is limited. Register here.