Ever wonder how a good writer makes setting come alive? Don't want to waste that large info dump of description? Need to learn how not to bore the reader with long descriptive passages while your protagonist is on the run? Want to bring your characters alive by making your location do double duty?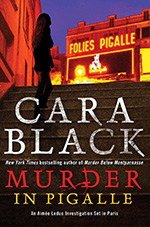 Join us at the Oregon Writers Colony Annual Conference May 1-3, 2015, when Cara Black, author of the New York Times best-selling Aimée Leduc mystery series, teaches us how to use setting as more than just description and ultimately bring setting to life as a character.
Cara will cover her own craft techniques along with the techniques of other well-known authors to show how to make setting pop.
Participants will learn:
How an info dump can be your best friend
The why of your location: examining your choice of setting
First page description of setting: how to grab the reader
How to be a tourist in your own neighborhood
How to evoke emotions via setting
How sensory details can do double duty
What to do to hone your observational skills
How to create settings when you can't travel to them
Techniques for research
Included in the workshop are examples (off-the-chart successful and abysmally bad), plus short exercises—including a fun one using a French graphic novel by Leo Malet.
Through group discussion, addressing individual participant issues, and showing what works and doesn't, Cara will help you bring your setting to life.
As Cara says, her job as a writer is to "take readers to Paris without paying for airfare and drop them firmly into Aimée's high heels."
The Annual Conference, Friday-Sunday, May 1-3, 2015, at the Sylvia Beach Hotel in Newport, Oregon, will also feature literary agent Stephanie Cabot.
Email Carol Cole about day passes available in the last weeks before the event.