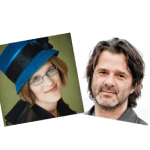 Two writers will lead the spring 2014 Oregon Writers Colony Writer in the House weekend, Friday through Sunday, June 6-8, 2014.
Matt Love of Nestucca Spit Press and Laura Stanfill of Forest Avenue Press, will talk about their experiences as writer and independent publishers. Love will lead two workshops. Stanfill will participate in a discussion and Q&A session and will read full-weekend participants' query letters and opening pages and give one-to-one feedback.
Learn more about the weekend and the presenters at Spring Writer in the House: Semi-Summit on Small Presses.
Schedule
Friday, June 6
5:30 p.m. to 7 p.m. Check-in.
7 p.m. to 8:30 p.m. Creating a Metaphor for Your Writing Workshop, Matt Love.
Saturday, June 7
Until 10 a.m. Breakfast on your own.
10 a.m. to noon. Rain as Metaphor Workshop, Matt Love.
Noon to 2 p.m. Catered lunch for full-day participants and Colonyhouse residents.
2 p.m. to 4 p.m. Producing and Marketing Sustainable Literature Discussion by Matt Love and Laura Stanfill, followed by a question-and-answer session.
After 4 p.m. Dinner on your own.
Evening. Full-weekend participants will have an opportunity to show their query letters and/or the first pages of their prose to Laura Stanfill for one-to-one feedback. Please bring correctly formatted, typed pages for Laura to read and bring a spirit of openness for her expert feedback and suggestions.
Sunday June 8
Morning: Breakfast on your own and check-out.