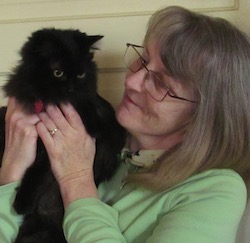 Mollie Hunt is the author of a new book, Ghost Cat of Ocean Cove, a Cozy Cat Mystery independently published.
A ghost cat and a cold case murder turn a beach house dream into a nightmare.

When septuagenarian Camelia Collins fulfills her lifelong dream of moving to the Oregon Coast, she's in for a shock. Her real estate agent failed to mention the previous tenant was murdered on her doorstep—and three years later, the case remains unsolved! But that's not all. At the back of her garden lies the ancient gravestone of a cat named Soji—now Soji's ghost wants to come out to play!