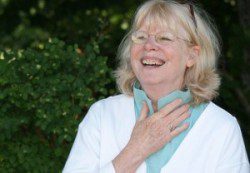 At the January 11, 2017, Literary Lounge features Lill Ahrens, writer, editor and instructor. She will discuss how to use effective chronology in fiction.
Though stories can leap back in time — via flashback, backstory and time travel —many bits of story information need to be in chronological order. For example, motivation before action, setup before payoff, and many more. Yet writers often "write backward" without realizing it.
Backward writing saps tension. Chronological writing creates and increases tension, propelling readers through a story to the very end.
This info-packed presentation includes Lill's "Chronology Checklist" handout, to help you turn "backward writing" around.
C. Lill Ahrens is an award-winning author who loves to help writers succeed. As a Calyx Journal editor, OWC's contest director, a teacher and editorial consultant, she's read thousands of unpublished stories and discussed the finalists with fellow editors and judges. Thus she's learned why some stories make the final cut while others fall short, and what's needed to improve them. Many of Lill's students and clients have become award-winning published authors.
The Januaryt Literary Lounge happens at 7 p.m. Wednesday, January 11, 2017, at TaborSpace Commons, 5441 SE Belmont, Portland.