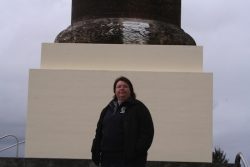 Amy Stinnett is the author of a new book, Lookout Butte, a work of contemporary Lesbian fiction published by Waiting Dog Press.
Love can be hard in Atlanta.
When women are throwing themselves at her girlfriend, it's hard for Alex not to be jealous. And when Alex is busy with work and school all the time, Kat starts to get lonely. Alex is a Connecticut bleeding-heart liberal, and Kat is a self-proclaimed Georgia redneck who tends bar in a gay nightclub, but they have a lot in common. Both women have family issues to resolve before they can take the next steps in their lives.