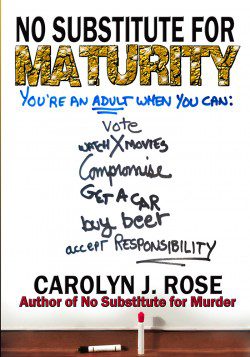 "No Substitute for Maturity," the third in the Subbing isn't for Sissies series, has been released by Carolyn J. Rose.
The first two books in the series have sold 40,000 e-copies. In this newest mystery substitute teacher Barbara Reed returns.
After tangling with killers and a deranged drug dealer in two previous books, Barbara Reed craves routine, relaxation and quality time with drug cop Dave Martin. Living together seems like the way to achieve that, but Dave's teenage daughter is part of the package—a package filled with drama, conflict, stress and shirked responsibility. Teen issues are the tip of an approaching iceberg.
Meanwhile, Barb's smarmy ex-husband lands a job at her condo complex, curriculum changes spark teacher turmoil, and Barb's bombastic sister, Iz, launches a protest against the justice system.
Then the police chief resigns, leaving Dave at the mercy of a new boss with an old grudge, a boss who wants Iz arrested for murder.
To read more visit: deadlyduomysteries.com.