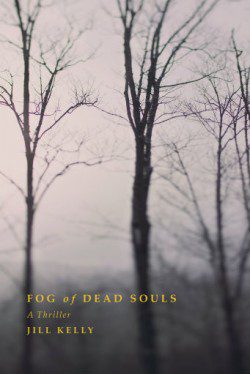 Some wounds never show on the skin but they can be far more hurtful than anything that bleeds. Oregon Book Award finalist Jill Kelly illustrates the powerful resilience of the wounded human heart in her first thriller, Fog of Dead Souls (Skyhorse Publishing, March 2014).
Professor Ellie McKay has a dark and clouded past, one that has left her with a trail of death and shame. When she walks into the Maverick Bar one night, she plans to get drunk, not engaged. But within thirty minutes, she's met and agreed to marry local rancher Al Robison. Al only knows that Ellie is attractive, vulnerable, and single; he doesn't know that she has been on the run for months, from Pennsylvania to Paris to Texas, eventually landing in New Mexico as she attempts to escape a psychopath who killed her surgeon boyfriend and raped and tortured her. Among the secrets Ellie keeps are her feelings for Doug Hansen, the detective who originally investigated the case and who is still tracking her killer. Now Ellie has joined her fate with Al's, whose own past is darkly complicated. Can Hansen find them before the killer does? And can he let Ellie go to this other man?
A freelance editor and former professor of literature, Jill Kelly has been writing and publishing since 2002. Her memoir, Sober Truths: The Making of an Honest Woman, was a finalist for the prestigious Oregon Book Award. She is also the author of Sober Play: Using Creativity for a More Joyful Recovery and The Color of Longing, a romance. When she's not offering creativity workshops and leading writing retreats around the country, she's usually in her Portland, Oregon studio, where she creates deep-color pastels.