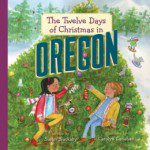 Author Susan Blackaby and illustrator Carolyn Conahan have a merry picture book collaboration hot off the press. "The Twelve Days of Christmas in Oregon" pairs Conahan's artwork with a blast of geography, history, science, folklore, and—of course—snowboarding as two goofy cousins take a holiday romp around the state.
From Publishers Weekly: "In this addition to the Twelve Days of Christmas in America series, a boy named Damon visits his Oregonian cousin Liz, who gives him a crash course in all that the state has to offer. Opposite an Oregon-themed version of "The Twelve Days of Christmas" (from "12 crabbers crabbing" to "a meadowlark in a fir tree"), Damon's letters home to his parents reveal how much he's learning about Oregon.
"Blackaby packs an impressive amount of information into these missives, including a few holiday-appropriate tidbits (the cousins camp near the Donner und Blitzen River, "which comes from the German words for 'thunder' and 'lightning,' " Damon recounts). Conahan's spirited watercolors are full of humorous asides and details to examine, culminating in a cozy holiday campfire on the beach. …Ages 5–up."
Mark your calendars and come to one of various events: 1:30 p.m. Nov. 15 at Annie Bloom's Books: 10 a.m. Dec. 3 at Barnes & Noble Bridgeport (with SANTA), Noon on Dec. 6 at Waucoma Bookstore in Hood River and at 3 p.m. Dec. 6 at Klindt's in The Dalles. Appearing Dec. 7 at the OHS Holiday Cheer book gala and 2 p.m. Dec. 13 at Green Bean Books in Portland.